About Us
-
The Experts in EDU Lead Gen
How We Got Here
The YourSchoolMatch story starts back in 1999 when our founders, Kai and Brad, ended up on the same group project team at Columbia Business School. It wouldn't be until 2004 that they founded their first startup though. After graduating business school Brad went into strategy consulting with Deloitte Consulting and Kai traded equity derivatives for Merrill Lynch.
After a few years of working for the man, Kai and Brad decided to branch out on their own. They founded an AI-based poker software company that included a 9-month stint in India and an eventual company relocation to San Diego. Regulation of the poker industry ultimately put an end to the company but the lessons learned would be incorporated into their next ventures. The largest of which was an app development company that reached 260 employees and ultimately sold for an 8-figure exit.
In 2013, looking for their next challenge, the team decided to point their skill set at the marketing vertical, specifically lead generation. The lead generation industry pre-dates the internet and most market participants still approached it from an old-school marketing bent. The industry was ripe for disruption. Our core competencies of Artificial Intelligence, quantitative analysis, software development, and data analytics have allowed us to solve today's EDU lead generation challenges using today's technology.
Our Core Values
Here's how these impact our partners and business...
Ad Copy And Placement
For every lead generated we provide a link to a preview of the exact ad (and platform) that the prospective student clicked on.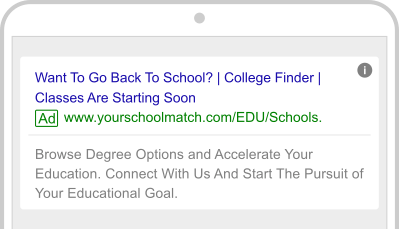 3rd Party Monitoring For Our Website Traffic
We are a certified LeadiD Jornaya publisher. LeadID tracks every action made by every user on our website.
This data is recorded and made available for every lead we generate.
This record provides verifiable evidence that all compliance regulations are strictly followed.

Upfront Pricing And Volume Projections
Leading into the beginning of each month your assigned representative will work with you to project lead volume.
We will be honest and open regarding the lead volume you should expect to receive based on the level of competition at various price points.
The more pricing information we're able to share, the more everyone benefits.
Ready To Grow Your Student Enrollment?